A Big, Brassy 'Music Man' at the Woodlawn
There may not be 76 trombones in the orchestra, but it sure feels like there are at least 76 cast members onstage in the Woodlawn Theatre's spectacular production of Meredith Willson's The Music Man.
Seeing this classic onstage reminds you of just how cutting-edge Willson was — more than 60 years ago. Not only did he cast an antihero as his leading character, he featured some unique musical stylings in his score. As an example, the show opens with "Rock Island," in which a group of traveling salesmen complain about the notorious Harold Hill. There's no music in this song, per sé — just the rhythm of a train engine keeping time as they sing/speak the lyrics. And there are several contrapuntal songs such as "Pickalittle (Talk-a-Little"), which changes a group of townswomen into a coop full of gossipy hens. It's really quite brilliant.
And the standards that The Music Man gave birth to — along with "76 Trombones," there's "Till There Was You," "Gary, Indiana," "The Wells Fargo Wagon," "Shipoopi"…the list goes on and on.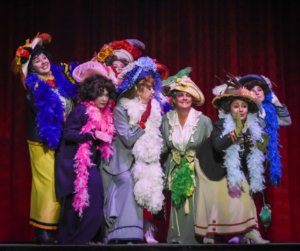 The Woodlawn has really pulled out all the stops for this show. Okay, there may not be 76 cast members, but there are indeed 52, which is still a massive undertaking. They're all well-directed by Bill McCrary, who somehow found the time to also serve as music director. There's also a lot of dancing in this show  — some of which goes on for a long time — and Michelle Pietri's choreography is energetic and lots of fun to watch.
Contributing their usual excellent stagecraft are set designer Benjamin Grabill, sound designer Benjamin Farrar, conductor Jaime Ramirez, lighting designer Matt Smith and scenic artist Chris Rutz. Rose Kennedy (with assistance from Morgan Clyde) must have enjoyed creating the authentic-looking early 20th-century costumes, with all of their buttons and bows (see what I did there?).
Although it's too enormous to mention everyone by name, the cast is superlative. Trey Hoadley nails it as the ever-so-slick Harold Hill. Michael Parisi continues to add to his resumé as a reliable sidekick with his portrayal of Marcellus, who knows Hill's true identity. Sami Serrano is fine as the love interest Marian (the librarian) and Beth Lamy honors the memory of the great Hermoine Gingold with her performance as the hilariously overdramatic Eulalie McKecknie Shinn.
Come see this show — bring the kids (and take your sweetheart on Valentine's Day)! There are six more opportunities to see it, Fridays and Saturdays at 7:30 p.m. and Sundays at 3:00 p.m. from Feb. 14-23. The Woodlawn Theatre is in the Deco District at 1920 Fredericksburg Road. Reservations can be made online or by calling (210) 267-8388.
Photos by Siggi Ragnar.