'The Gunter' Film Halloween Fundraiser Is This Friday
Want to stay in a haunted hotel? Help Irate Overloard, a local independent film production company, bring the legendary tales of the Gunter Hotel to life by supporting its first fundraiser, Thirsty Thrillers. It will be held this coming Friday, Oct. 26, from 8 p.m. to midnight at Edwards Ridge Distillery, located at 16104 University Oak, San Antonio, TX 78249.
This Halloween-themed event is a (scary) costume and crafted cocktail soirée highlighted by the debut of the production's trailer, with proceeds from bar sales benefiting the production costs. Scariest costume in attendance will win an overnight stay at the haunted Sheraton Gunter Hotel. The winner will be selected at midnight and must be present to win.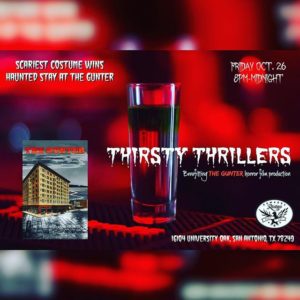 Written and directed by Christian York, The Gunter film is based on historic events. Four guests are drawn to the Gunter to confront their past, as the sinister nature of the hotel's hauntings reveal each character's fate. Currently in pre-production, the film will begin shooting in February 2019.
The Story
Food and spirits journalist Natasha Crane sets off to San Antonio to experience the best the city has to offer. Staying at the historic Gunter Hotel, Natasha befriends blues musician Raymond Hall, who hopes to record an album in the same room (414) where the legendary bluesman Robert Johnson recorded his first two albums. They make plans to see the town together the next day.
That night, Natasha is startled by a young boy in the fourth floor hallway. Natasha asks Angelica (the front desk attendant) to look into it. While meeting with Martin Adams of Edwards Ridge Distillery, Natasha learns of the haunted past of The Gunter. In 1965, a man named Walter Emerick was accused of murdering an unidentified blonde woman. Some claim to still hear her screams and feel his dark presence inviting other malevolent spirits to visit.
In Bar 414, Natasha, Raymond, and Cody (the bartender) bond over drinks, blues, and ghost stories. During the next 48 hours, the stories of Natasha, Raymond and Cody become inextricably entwined with the legends of The Gunter and the many ghosts who haunt the hotel. The storm of the century arrives as The Gunter decides to reveal its full power as it judges them one by one. Priorities will be tested, faith challenged — and in the end their individual choices will determine their fates.
For more information, visit The Gunter Film or connect via Insta/FB @thegunterfilm.