Date Added: 'An Evening with Mark Twain' Encores Oct. 5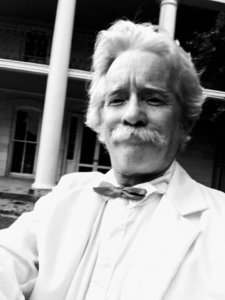 To celebrate more than 25 years of performing around Texas and 10+ years of dinner theater comedy at the original Little Italy, the Company Theatre presents an encore performance of its latest show, An Evening with Mark Twain.
Twain, America's most celebrated humorist, skewers politicians, newspapermen and so-called patriots in this monologue brought to life onstage by the talents of award-winning actor J. Damian Gillen, who adapted Twain's own words for a commentary on slavery, religion and politics, mixing the satire with comic yarns about life on the Mississippi.
WHEN: Oct. 5th, 2019
DOORS OPEN FOR DRINKS & DINNER AT: 6:00 p.m.
WHERE: The Big Apple room at Little Italy (our flagship restaurant, located at 824 Afterglow SA, TX 78216)
Dinner and Show Combo is only $40.
Seating is limited. Shows sell out quickly. Buy your tickets now.Call for Tickets: 800-838-3006 or order online.
For more info on discount tickets, season tickets and private parties, contact the Company Theatre at (210) 646-4284 or online.
UPCOMING SHOWS
The History of Texas…in one darn easy lesson! — TBA. 500 years of Texas in 5,000 seconds! Bubba and Tex take you on a historical, hysterical, hyperactive hayride through the history of the Lone Star State.
The Mystery of Irma Vep — Oct. 25 and 26. It's Monty Python meets Young Frankenstein in a family-friendly horror-comedy with vampires, werewolves and an archaeologist with "mummy" issues.
A Tuna Christmas — Winter. The hilarious sequel to Greater Tuna.
Merry Christmas, George Bailey! — Winter. An old-time radio show adaptation of the James Stewart classic It's a Wonderful Life.
Bah Humbug! A One-Man Christmas Carol — Winter. One man plays all the roles, from Scrooge to Tiny Tim, in Dickens' magical tale of hope and redemption. Touring throughout Texas with an amazing 30 shows in 30 days.