Exclusive Interview: Derek Berlin on Rediscovering Poe
Making its premiere this coming Friday at the Overtime Theater is An Evening with Edgar Allen Poe, a solo performance about the tormented author. It stars Derek Berlin, who also wrote and directed the piece.
Berlin spoke with ArtScene SA about the production and how he hoped it was a faithful reflection of the man himself.
"Poe started out as a man. Then he became a legend. Then he became a myth, and finally a caricature," Berlin said. His goal with this piece is to depict Poe as a real person.  "As I began to research Poe for this piece, I felt I really got to know him," he added. "As a writer myself, I found that we had a lot of common ground."
Berlin began to identify with Poe from an artistic standpoint. "I began to think of all the chances I take as a writer, and how he was the one who allowed me to do this. He was the one who started it all."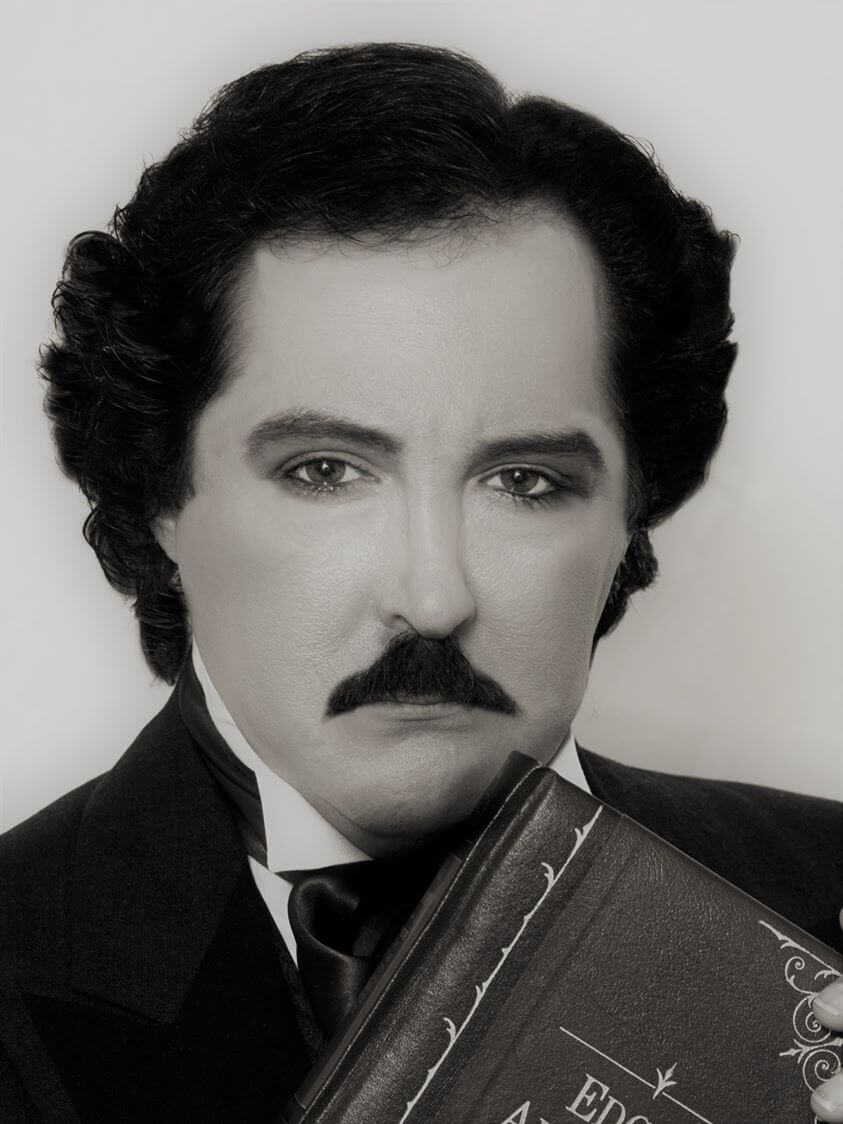 Berlin explained that in Poe's time, the Victorian era, writing was very restrained, as well as the thought process. "Poe was the first person to step outside that realm," he continued. "So instead of talking about the chair in the corner of the room, for example, he would talk about the moving shadows behind the chair."
This made the reader's mind push beyond what was on the written page, and imagine what the shadows represented. This was considered vulgar, and gave them too much to think about. Poe broke rules, and by breaking rules, he made enemies.
"He was a mad genius," Berlin added. "He was also extremely narcissistic. He thought he was the greatest writer ever, and he put down other writers. He thought they were shallow since they wouldn't take chances. They were mongrels to him, so he made enemies."
Although he was boastful, he could back up his boasts with actual talent, earning the contempt of his peers.
Poe would go to salons in people's homes and perform. He would read "The Tell-Tale Heart" (which Berlin will be performing in his show) as well as selected poems. He found that women would get aroused by the darkness of his words. It was a type of seduction that he found fascinating.
"He was bipolar; he was an alcoholic and had other challenges such as abandonment issues." In short, he had a terrible life, and terrible things happened to him. Even after Poe died, people wrote libelous things about him, seeking to discredit his image. "Inadvertently, these adversaries managed to create a legend; this macabre, mysterious man."
"This is the scariest thing I've ever done. This is not something I'm adapting, like Dorian Gray, where I'm dealing with a character. Here, I'm dealing with a real human being. I had to find his voice and be true to the man. How would you feel if 100 years from now someone wrote about your life, where everything was backwards and nothing was true? You'd be really insulted."
When Berlin was doing his research, if a fact about Poe wasn't confirmed by more than ten witnesses, he didn't put it into the play. He wanted to use as much factual evidence as he could find. "By the time I finished the story, I was so emotional at his death," he said. "It was as if my best friend was dying, and I didn't have any control over it. I literally wept — it was that moving."
With the piece, he breaks the fourth wall. The audience becomes Poe's confessors as he tells the story of his troubled life. "The audience members are my co-stars, and it works beautifully in the black box setting."
An Evening with Edgar Allen Poe plays July 5, 6, 12, 13, 19, 20, 26, 27 at 8:00 p.m. with additional Sunday performances on July 14 at 3:00 p.m. and July 21 at 7:00 p.m. at the Overtime Theater, 5409 Bandera Road. Tickets are available online.