Enjoy Fall Festivities at the Briscoe
Fall in the West is picture perfect — and thanks to the stunning art and fantastic programming at the Briscoe, everyone can enjoy the season. Step into the intimate lives and culture of today's cowboys through a showcase of stunning black and white photographs at the Briscoe Western Art Museum during Anouk Masson Krantz: "American Cowboys", on view through Jan. 22, 2024, and mark your calendar for everything from Western Halloween fun to stories for the smallest cowpokes and their caregivers to enjoy.
Community Ofrenda and Crafts:  Celebrating Día de los Muertos in the West
Ofrenda:  Now through Nov.2
Art Sessions:  Oct. 28, 11 a.m. to 3 p.m.
In celebration of Dia de los Muertos, the community is invited to participate in the Briscoe Museum's Community Ofrenda honoring influential figures in Western art and the American West, as well as the museum's late namesakes, Gov. Dolph Briscoe Jr. and his wife, Janey Slaughter Briscoe.
Everyone is welcome to add photos of lost loved ones and personal offerings to help celebrate their lives. The ofrenda will be on display in the museum lobby and free Día de los Muertos-themed crafts will be available for those who would like to participate. The Briscoe's Hendler Family Museum Store will have Día de los Muertos items available for those who wish to add to their offerings.
Learn about the art traditions behind papel picado, then create your own, and paint your own calaverita – "little skull" – with local artists at the Briscoe's Día de los Muertos celebration. Artist Renée Letapi-Gamez will lead everyone in painting calaveritas while artist Kathy Trenchard will lead an informal discussion and work with two classes to demonstrate the craft of papel picado. Both programs are included with museum admission and all materials are provided. Two papel picado sessions will be held on a first-come, first-served basis at noon and 2 p.m.
A native New Orleanian and graduate of Pratt Institute in Brooklyn, N.Y. with a Masters in Painting and Printmaking, Kathy Trenchard maintains a studio/home on Woodlawn Lake. Upon her arrival in San Antonio in the late 1980s, Trenchard began experimenting with the Mexican mallet and chisel technique of papel picado. Her book, "Mexican Paper Cutting" sold out in 1998 and she is working with Trinity Press on an expanded publication. Trenchard's permanent installations are on view at the Frost Bank Center, South Texas Blood and Tissue Center, the Grand Hyatt, 136 Grandview, the Kennedy Apartments at Brooks City Base, VIA bus shelters in San Antonio, and cut metal panels in Cleveland Park in downtown El Paso.
A student at the University of Texas at San Antonio, Renée Letapi-Gamez draws inspiration from Latin culture and is a Día de los Muertos aficionado. Her focus is on small works inspired by catrinas, calveras and alebrijes. She'll share her passion for these traditional elements of Día de los Muertos and help everyone create their own calaveritas.
Halloween Western-Style:  Painting with Gio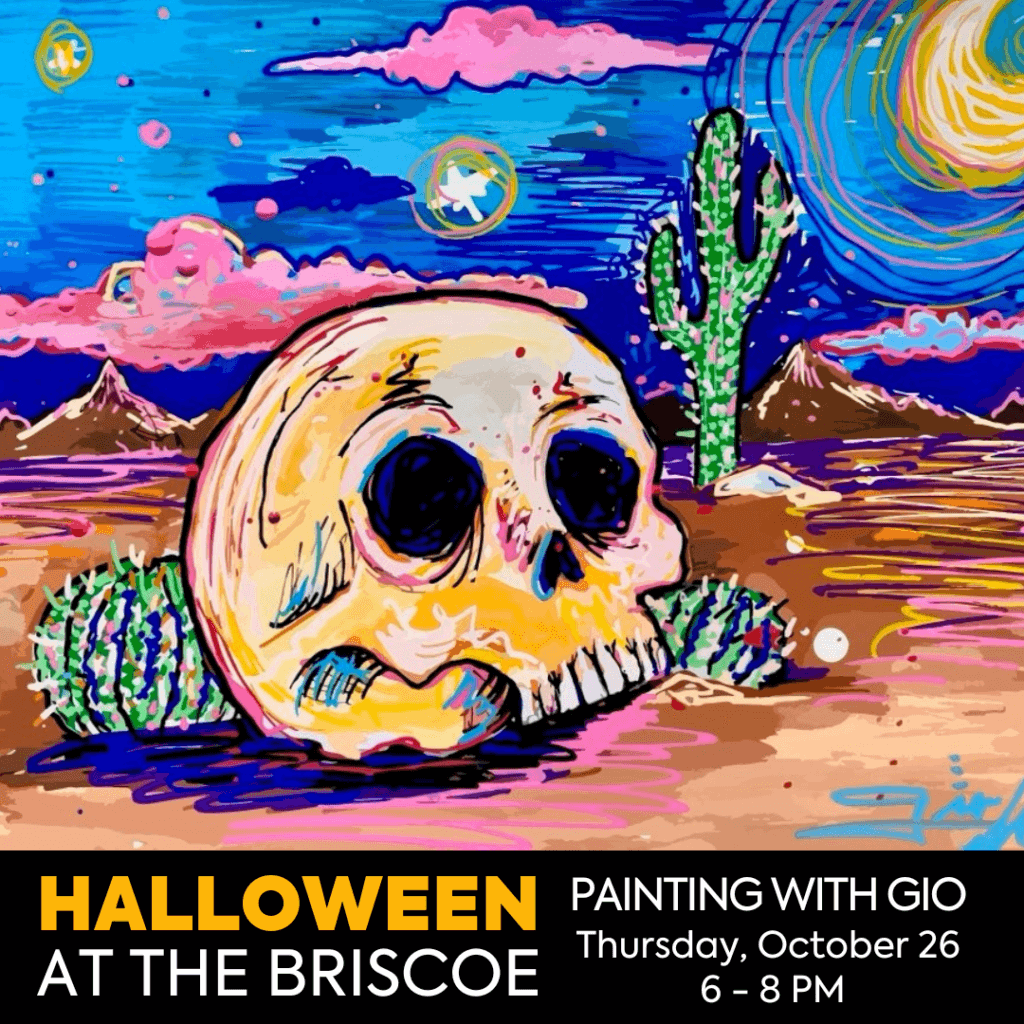 Oct. 26, 6 to 8 p.m.
Enjoy a Halloween painting session led by energetic and charismatic international artist Gio DiZurita. Based in San Antonio, DiZurita tells stories through her art, an everlasting transformation of life experiences. Add some spooky Western vibes to your Halloween during a relaxing evening sipping beer, wine and acrylic painting on an 11 x 14 canvas in a hands-on session with Gio as she guides guests through their own creepy take-home work of art. Tickets are $45, or $35 for museum members. Registration for this 21+ event is per person and includes beer, wine and all supplies.  Class size is limited, so register today to secure your spot.
Honoring Native American Heritage: Yanaguana Indian Arts Festival
Nov. 11, 10 a.m. to 4 p.m.
Highlighting the continued vibrancy and artistic traditions of Native American communities, the free Yanaguana Indian Arts Festival offers a glimpse into traditional and contemporary Native American culture. Featuring Native American artists, musical performances and dancing, the free event includes storytelling, artist demonstrations of painting, printmaking, pottery, weaving and carving, as well as Native American-inspired food and free museum admission. Yanaguana Indian Arts Festival also features workshops and lectures celebrating Native American culture.
Monthly Fun:  Free Admission for Locals, Hands-on Education, Storytime
Locals Days: First Sundays Free for Local Residents
First Sunday of the month, Nov. 5 and Dec. 3
To thank the San Antonio community for its continued support, the Briscoe Western Art Museum makes the first Sunday of each month "Locals Day," greeting locals with free general admission. Bexar County residents can enjoy the Briscoe's Locals Days through 2023, with free admission on Nov. 5 and Dec. 3. As always, children 12 and under receive free admission to the Briscoe every day, as do active duty members of the military, making the Briscoe a terrific spot for local families to enjoy any time.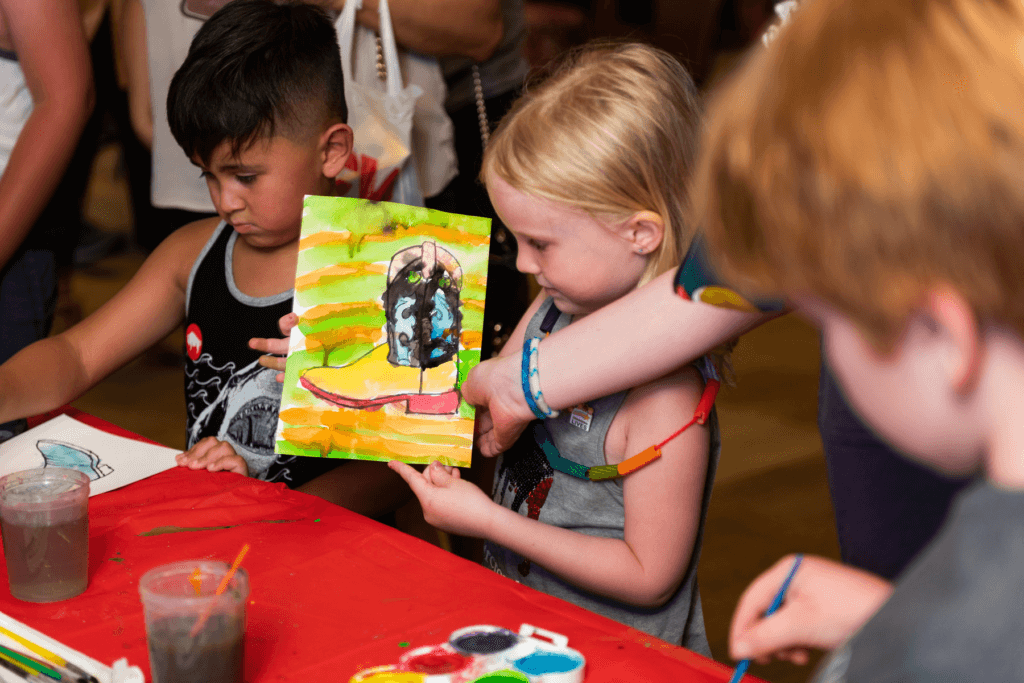 Full STEAM Ahead: Free Education Series Offers Hands-on Learning Fun
First Sunday of the month, Nov. 5, 1 p.m. to 3 p.m.
Topic: Engineering Challenge – Native American Homes
Families and visitors of all ages can learn about the American West in the Briscoe's free monthly education series, Full STEAM Ahead. Learners of all ages work together and learn about the American West by engaging in hands-on, STEAM (Science, Technology, Engineering, the Arts and Mathematics) learning experiences. Each of the activities ties back to the Briscoe's art and artifacts, bringing the West to life in a new way. From transportation and weather to animals, astronomy and engineering, each program explores an aspect of life in the West to engage and inspire learning. Full STEAM Ahead is included with general admission.
Storytime Stampede: Stories and More for Little Cowpokes
Third Saturday of the month, Oct. 21, Nov. 18, Dec. 16, 10:30 to 11 a.m.
Families and caregivers of young children can enjoy Western fun and stories each month at the Briscoe's Storytime Stampede. Featuring 30 minute programs designed for young children ages 18 months to 5 years, Storytime Stampede includes stories told and acted out, books read aloud, movement activities, songs and art fun. Adults bringing children to Storytime Stampede receive half-off general museum admission. Children 12 and under always receive free admission at the Briscoe, making Storytime Stampede affordable family fun.
Putting Western Virtues on Display:  Anouk Masson Krantz
Highlighting the enduring traditions around ranching and rodeo life from an outsider's perspective, American Cowboys shares an intimate look at America's Western heritage. Nearly 100 images captured on solo journeys across the American West by the celebrated photographer Anouk Masson Krantz reflect the greatest virtues of America's heritage.
A French fine-art photographer and author based in New York City best known for her American Western work, Krantz has logged more than 125,000 miles traveling the West by herself in her quest to reveal the authentic daily lives of humble and virtuous American cowboy. Krantz's photography has received worldwide acclaim, including the 2023 Western Heritage Award for her latest artbook, Ranchland: Wagonhound. The exhibition is included with museum admission and is on view through Jan. 22, 2024.
For hours, admission prices and other information, visit the museum's website.
Photos courtesy of the Briscoe Western Art Museum.