Interview: SPARK Theatre Company's Lara Benavides
SPARK Theatre Company is returning to the Tobin Center's Carlos Alvarez Studio Theater in June with with Mad Gravity, William Missouri Downs' comedy about family, morality…and the end of the world.
In anticipation of the event, ArtScene SA talked to Lara Benavides, SPARK's founder and artistic director, about the organization, the state of theater in San Antonio, and Mad Gravity.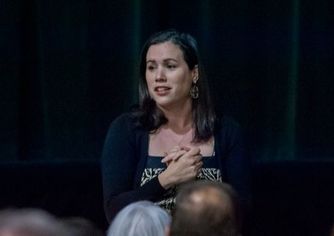 Tell us a bit about SPARK, its founding and its mission. How does it affect the community here in town?
Established in 2017, SPARK Theatre Company produces works of theater to promote topics of social awareness while opening the door to dialogue about the needs of those in both the audience and community as a whole. SPARK stands for theater that meets people where others can't, and provides a safe space to be seen and heard. The effect on the community is to produce forward-thinking works that aren't often seen or from not as well known playwrights, like with this current show.
What do you think of the current state of live theater in San Antonio? 
The San Antonio theater scene is awesome! Vibrant and full of so many talented people whom I greatly admire. It is so amazing to be in a city that both appreciates and produces great theater.
What do you think of the efforts of local companies to legitimize theater and make it possible for actors to actually earn a living doing what they love?
I applaud the efforts to help foster theater as something that is not only your passion, but also your livelihood. While not a reality for me as of yet, it is something that I dream of for the future. The more great work we produce, the most opportunities our community has to realize their dreams.
Personally, what is your goal for transforming the art of performance in the Alamo City?
I don't know that I would necessarily be able to take on such an incredible feat, but I definitely see myself and SPARK as part of a whole. We all find ways to keep arts alive and accessible to our audiences, and we are each able in our own way to create incredible and innovative productions that provide laughter or thought to the viewer.
Why is Mad Gravity an ideal piece for SPARK?
This show is ideal because it not only makes you laugh, but it engages the audience in asking the great "Why? Why are we here? Is anyone watching? Why do we make the choices that we do?"
For me, It's not enough to be entertained for one evening. I want the afterlife of the evening to be carried on for days. True works of art impact the audience. SPARK exists to be a part of the current dialogue, no matter what the subject.
What's the show about? What can audiences expect?
The show is about family, love and our basic human instincts. Why do we make choices to help or hurt each other? Are we intrinsically good? While it centers around two very different couples who hilariously seek to find common ground for the sake of their children, they also navigate some pretty tricky topics about life. The play also engages the audience really well and often directly interacts with them.
You can expect to laugh not only at the audaciousness of the characters but also because it's easy to see a little bit of ourselves in each of them. The story of young love is eternal, but throw in a performance artist who has built a theatre in his living room, his death counselor wife, an inebriated dentist and his conservative wife, and you've got so much more.
---
Mad Gravity plays June 14 at 8:00 p.m. and June 15 at 3:00 p.m. and 8:00 p.m. and the Tobin Center for the Performing Arts' Carlos Alvarez Studio Theater, 100 Auditorium Circle. Tickets are available online.